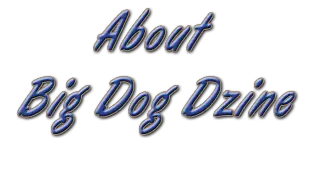 Hello, My name is John and I am Big Dog Dzine. It's just me, with some artistic input from my wife Debbie, who is an artist, designing, developing and maintaining your website. Recently, circumstances caused me to retire from my career in juvenile corrections much earlier than I had planned. As a result my wife and I relocated to La Pine, in Central Oregon. Now I am using my time to help you get the web design you are looking for at an affordable price. Nothing will be better than when you and I come together to make your vision of a website come true.
Why "Big Dog Dzine" you ask? Because my wife breeds English Cocker Spaniels, which are a medium sized dogs, and I have an English Setter… a Big Dog
(The good looking one on the right)

. His name is really River, but we call him Big Dog. Another reason, Most Big Dogs are easy going and friendly. That's my philosophy about web design.
I can't tell you I have been professionally designing and building websites for years, because I haven't. I created my first website in 2007 because I had a small business, I needed a web presence, and I did not have money to pay someone to create an e-commerce website for me. So I did what I have always done; created a website for myself. Since then I have put together a few websites here and there to help out a few friends , my wife's kennel club, and to fill my wife's website needs as a Dog Show Exhibitor/Breeder and an Artist. That's where my current portfolio sites came from. Now, I am taking the next step in web design with the latest in Adobe software and responsive designs.
Like I always say, You don't have to be the Big Dog, you just have to be able to run with the Big Dogs and that's where a Great Website comes in. I look forward to working with you on your next website project!